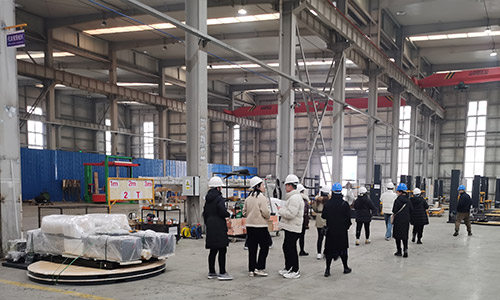 A Japanese manufacturer visited Dyehome Intelligent for investigation and study Recently
A Japanese manufacturer visited Shandong Dyehome Intelligent Equipment Co., Ltd. for investigation and study. At the exchange meeting, Factory manager Yihui first expressed warm welcome to the arrival of the Japanese company, and gave a brief introduction to Dyehome Intelligent company's main structure, development status, production scale, etc.; the product department introduced our products to the Japanese company in detail Types, technical improvements of equipment, sales cases, etc. Subsequently, The Japanese company visited and inspected the company's production workshop.
After learning about the packaging wrapping equipment mainly produced by our company, Zhao Zhenhua explained the production process of the semi-automatic pallet wrapping machine,on-line wrapping machine,high-speed rotary-arm wrapping machine,packaging assembly line system and the characteristics and functions of the packaging wrapping equipment. The Japanese said: Dyehome Intelligent's good working environment, orderly production process, strict quality control, harmonious working atmosphere, and hard-working employees have left a deep impression on them, and hope to continue to cooperate in the future.